Awake from a dream of utopia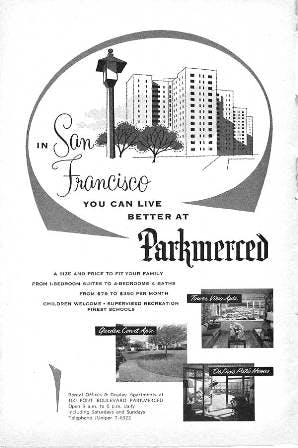 What is a space that endures?


Plovdiv, Bulgaria has retained the same footprint since the Greeks knew it as Philippopolis, if a time-traveller from today traveled back in time to Paris, France in the early 1800s they would still recognize the city's famous architectural landmarks and city streets, and Varanasi, in Uttar Pradesh India has been inhabited consistently for 3,000 years. While these are extreme examples, spaces that endure have similarities that transcend nation, culture and time.

Park Merced is not a space designed to endure. By 2030 the entire landscape of Park Merced will be completely transformed as it awakes from the dream of the utopia conceived by its makers.
Park Merced was designed in the early 1940s by Landscape Architect Thomas Dolliver Church and Architect Leonard Schultze of Schultze & Weaver Architects in New York City for Metropolitan Life Insurance Company. These early suburbs were following the tradition that began in the USA with spaces like Llewellyn Park in New York, These spaces were designed as a respite from city life and an contrivance of rural life. A utopia. Schultze & Weaver were known for their hospitality and entertainment related work and the design of Park Merced shows the spirit of that aesthetic. Park Merced was created as inexpensive housing for the post World War 2 generation. These densely built apartments and townhouses were designed to celebrate the nature that surrounded it. And, contributing to it's future demise, this housing complex was also designed to accommodate a lifestyle centered around automobiles.

Some of the qualities of urban planning that create spaces that endure are 1). Spaces that are human scale (accessible by the street or ground level), 2). Mixed use (Business and residences close enough to access by foot), 3). Their spaces informs the intended use . By design or by modification of use by the inhabitants over time.

Park Merced had all the elements to succeed but fails as a design that endured because the city has grown around it. Tall towers started to replace the human scaled Townhouses and mixed use was not considered so services were clustered into one small area of the neighborhood, making it so that residents had to rely on driving to other neighborhoods or traveling by the muni train that was not well connected to the neighborhood.

The space was designed to have portals to nature in each structure, these open spaces invite the passerby to walk into them, but they are private space so the visual language and the emotional and cultural norms do not flow together.

Nature surrounds the park-like landscape of Park Merced. This commune with nature is reinforced and amplified by the artifacts residents collect and display in their homes.

Visual evidence of creeping dereliction and decline of the neighborhood in anticipation of its demise is at odds with the desire of residents trying to save their homes.
Park Merced awakes from it's dream of Utopia to a San Francisco that has become a city of skyscrapers, and dense micro apartments. This newer generation that has no use or appreciation for the quiet placid green lawns and graceful trees. The rejection of the well intended contrivance that was the suburbs. One cannot help but wonder if we will live to regret the destruction of this dreamscape?